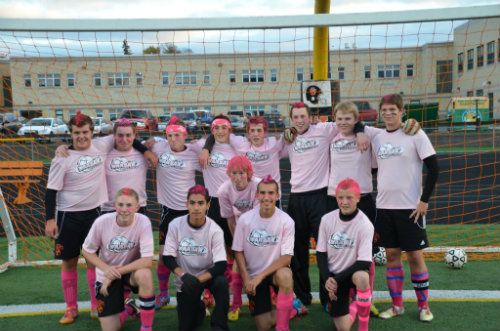 By Bryan Jackson
Coaches sometimes say there is no such thing as a moral victory, but the Warsaw boys' varsity soccer team certainly earned one Tuesday, though it wasn't on the field. Despite falling 3-2 in extra time versus the visiting Caledonia-Mumford Red Raiders, the Tigers can certainly hang their hats on their pregame display on compassion.
Fans saw pink Tuesday night, as the Tigers donned pink warm-up shirts and pink hairdos to raise awareness for breast cancer in honor of Lou Ann Chavis, whose son David is a sophomore on the varsity team. The team's pink shirts weren't just for show, they also sold the shirts and will donate the proceeds.
Chavis was diagnosed with stage two breast cancer in December 2011 and had to undergo chemotherapy and radiation. Almost immediately, the support from the school poured in.
The basketball team, which David also plays on, and the cheerleading team, collaborated on a bake sale and donated the proceeds – around $400 – to Chavis. In the spring, the softball team also held a fundraiser to benefit Chavis, and now in the fall, the soccer team is continuing the support.