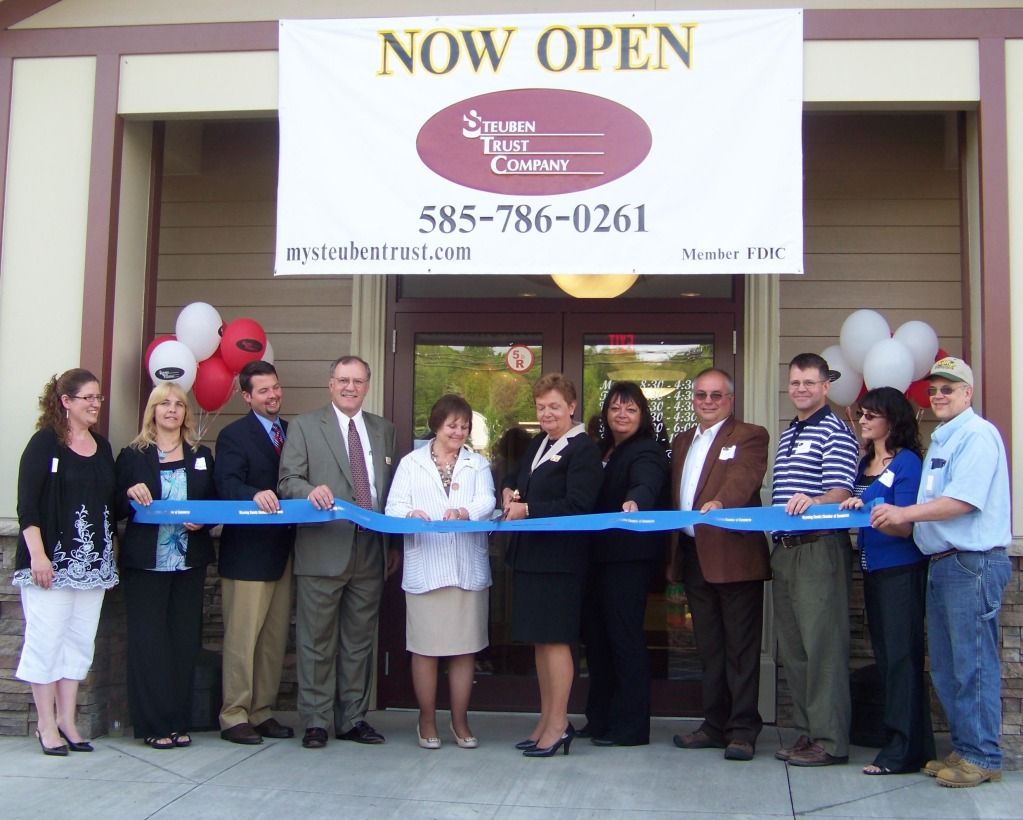 By Maria R. Hayes

On Tuesday, May 22, angry thunderstorms rolled through Warsaw, drenching the streets with a deluge of rain. But like something out of a fairytale, the clouds cleared and the sun came out that evening for the opening of the new Steuben Trust Company location in Warsaw.
Officials from Steuben Trust, the town of Warsaw and the Wyoming County Chamber gathered with members of the community to cut the blue ribbon and welcome the bank to Warsaw.
"We're very excited to come to Warsaw," said Cheryl Copeland, Warsaw branch manager. "We're a community bank, and we're eager to become part of the community here."
The new, full-service office will incorporate personal service with electronic banking alternates, as well as a drive-up teller and ATM services. The bank offers consumer, mortgage, commercial and agricultural lending, as well as trust and investment services. It also allows Steuben Trust to be closer to some of its current customers.
"We are pleased to be opening our newest branch in the community of Warsaw," said Brenda Copeland, Steuben Trust Company's president and CEO. "This is a convenient location for our customers, and this new branch opening is part of STC's continued commitment to providing outstanding service to residents of the greater Wyoming County area and investing in our local communities."
The new location's hours are Monday through Thursday, 8:30 a.m. to 4:30 p.m.; Friday, 8:30 a.m. to 6 p.m.; and Saturday, 9 a.m. to noon. An ATM and safe deposit boxes are also available.
The first Steuben Trust Company office was built in the former Babcock State Building on Main Street in Hornell in 1902, when it was known as the Bank of Steuben. Its name changed to the Steuben Trust Company in 1920 after it began offering trust services. The company continued to expand and currently operates offices in Steuben, Allegany, Livingston, Monroe and Wyoming counties.