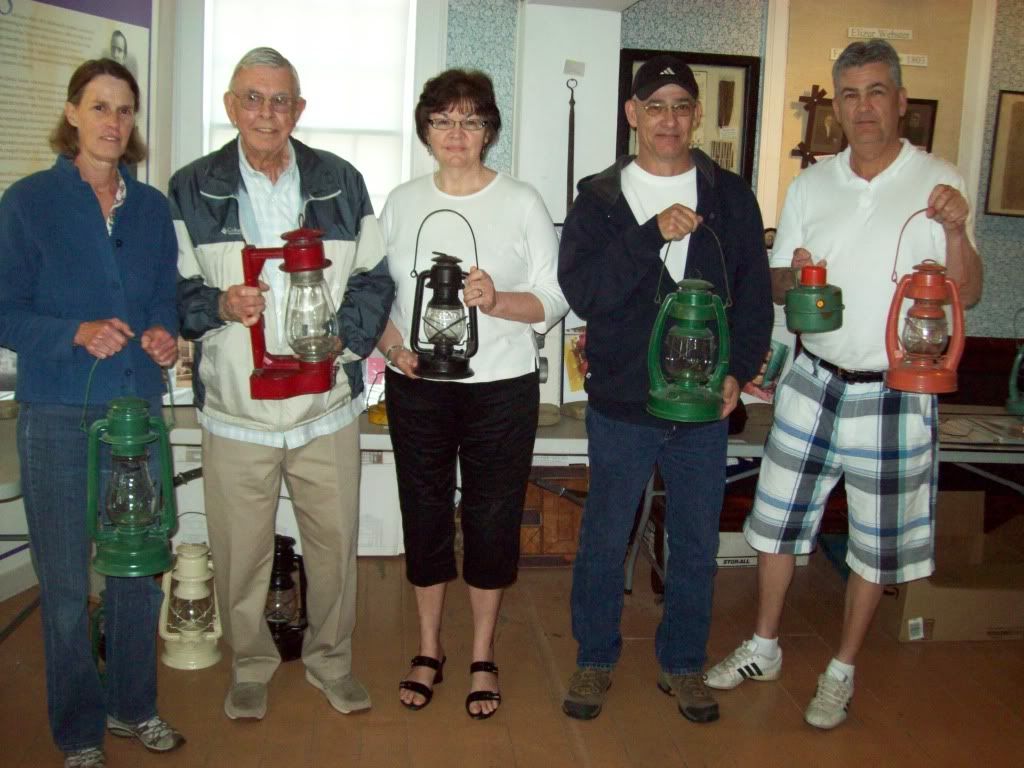 PHOTO: Five members of the Embury family attended the presentation on Sunday. Pictured from left to right are Susan Bronkie, Phil Embury, Jr., Marideth Embury Lewis, Robert Embury and Phil Embury III.
By Gary Towner

On Sunday, May 5, approximately 50 people filled the main room at the Warsaw Historical Society's Gates House to hear local historian Mark Milcarek relate the history of the iconic Embury lanterns produced in Warsaw. 

Not only were lanterns from Milcarek's personal collection on display, but many brought their own Embury lanterns to display and inquire about their lantern's history. Especially notable was the presence of five members of the Embury family: Philip Embury, Jr., Philip Embury III, Robert Embury, Marideth Embury Lewis, and Susan Bronkie.

According to Milcarek, William Embury (1873-1943), the founder of Embury Lantern Company, was Canadian by birth. He worked for several tin manufacturers, one of which produced a small line of lanterns. As a salesman for this company, he noticed that there were several things you could do to make the lanterns easier to use and more efficient. 

He took his ideas to his employers after working them out with his brother-in-law Jim Hill, an inventor, but they weren't interested. He decided to form his own company, obtained several financial backers, and in 1900 moved to Rochester, which had the greatest concentration of lantern companies in New York State. He named his enterprise Defiance Stamping and Lantern Company in "defiance" of the other existing companies and became its general manager.

The company prospered and grew quickly, but in 1908 some of his backers wanted relatives put on the payroll. This didn't set well with Embury, so he quit and with loans and other financial backing, started another company in the Rochester area: the Embury Lantern Company.

At the same time, in 1910, Warsaw was undergoing an economic downturn with empty factory buildings and many unemployed workers, mainly because of the decline of the salt industry. To replace those jobs that had disappeared, the Board of Trade formed the Warsaw Improvement Company, a stock company that took its money and used it to promote business.

The Board of Trade was able to entice Embury to relocate all his operations to Warsaw, with the Warsaw Improvement Company agreeing to erect a building that would meet his specifications and located at what is now the corner of Allen Street and Industrial Avenue. Embury didn't bring many of his Rochester employees to Warsaw, opting instead to hire Warsaw residents who needed jobs.

His first lines were the Camlox, Windsor, Midget and Duplex, lanterns which sold well.  Early automobiles didn't come with headlights, and the Duplex was sold for automotive use. At this time his brother-in-law, Jim Hill, came on board as vice-president and was instrumental in the design of the Duplex. Embury also toyed with the idea of electric lanterns during this period, but dropped the idea.    

During 1917-1918, Embury came out with the Supreme line, a much more varied line and the first to use a numbering system to indicate design differences. These lanterns could be painted in the purchaser's color or left in natural tin, and were an immediate success, remaining popular for 20 years.

By 1922 Embury introduced electric lanterns, considered part of the Supreme line, which ran on three D cells. These small lanterns were also called conductor lanterns. Although Embury didn't contract with railroads, railroad conductors preferred them because they didn't have to worry about spilling fuel or getting soot on their uniforms. It was also called the skater's lantern because it was much easier and safer to carry when ice skating.  Another electric lantern was called Supreme 200, or flashlight, along with a larger 300 model.  The electrics were not too successful, so in 1932 the line was sold to the
Eveready Company. 

In 1930, the International Commerce Commission required trucks and slow moving vehicles on the road to have minimum requirements of both lighting and safety devices.  Embury patented designs around those new requirements and introduced several new lines, including the venerable number 40, a contractor's lantern that could also be used on trucks. These didn't come with clear globes because they were designed as warning lights, not lights to see by. They had a large tank which allowed them to burn for a long period of time and stay stable in windy conditions. Other developments at this time were roadside torches and a line of truck lanterns. 

In 1936, William turned the business over to his three sons: Philip, William and Frederick, although he still was involved in the business. The sons realized they needed a new design, and the result was the Air Pilot, a general purpose lantern produced up to 1953. This was also the period when they started private labeling for various companies.

During World War II, the Navy contracted Embury to develop an emergency light in case a ship lost its electrical power. A battery powered lantern was developed, which contained a relay and was connected to the ship's electrical system. As long as the ship had electrical power, the relay was open and kept the battery off; if the ship lost its power, the relay closed and the battery took over.

By the end of WW II, demand for lanterns was diminishing, mainly due to the Rural Electrification Act passed under President Franklin D. Roosevelt. However, there was still a demand for lanterns in Europe because the war had destroyed most of the power grids, and this along with contractor lanterns kept the company afloat for a few more years.

Although Embury had become one of the largest lantern companies, second only to Dietz, and had sold 17 million products, management decided that it was no longer feasible to stay in business.  In 1952, negotiations were started with rival Dietz for Dietz to purchase the company, and by 1953, the era of Warsaw's Embury Lantern Company had come to a close.